Rose dreaming
Pour afficher ce message en français, cliquez
ici
.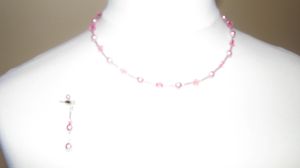 My mother has asked me to make a rose necklace to wear with the new top she had bought recently. As I was not really sure what she expected, I made several necklaces. She has kept some of them but I still have these for extra, which I am starting to wear. Fortunately, I have quite a lot of clothes that go with.
In a meantime, my mum who is really not a type of person just to wait doing nothing, started to do some beading ... and in the end she has made more necklaces than me :-D
We have really a nice collection of rose necklaces in different styles. Here are just some of them...
Sorry for the poor quality of the pictures.
Good night and sweet dreams!
Zuzana